Published on Thursday, August 20th, 2020 by Shane Doorish.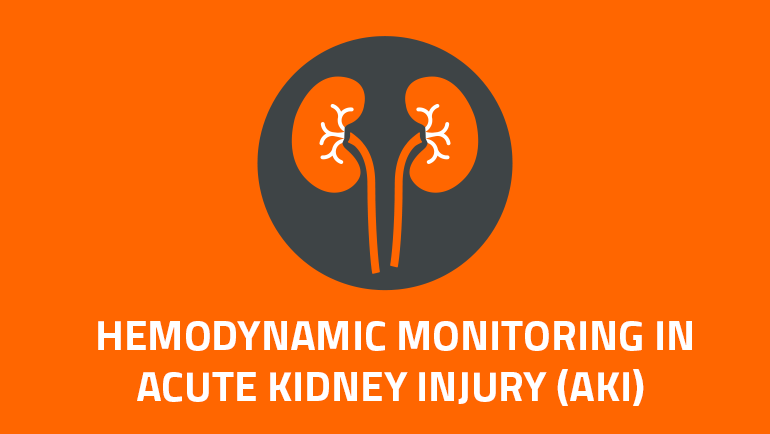 Acute kidney injury (AKI) in the critically ill and post-surgical patient populations has been previously associated with adverse outcomes.1 Among the adverse outcomes associated with the occurrence of AKI are increased risk of chronic renal failure and risk of death.2 Although risk factors of post-op AKI have been recognized, identifying contributing factors to AKI remains a challenge for OR & ICU healthcare professionals, as these factors are often associated, and stem from a number of causes or influences.
Most recently, AKI is reported as common in COVID-19 patients admitted to intensive care units around the world, with an incidence ranging from 11-50% and is associated with an increased risk of death. It is believed that hemodynamic disruptions such as increased central venous pressure, intra-thoracic pressure elevation, untreated hypotension, volume depletion or fluid overload may also result in AKI initiation or irritation.
Early identification and optimal management of patients at risk for AKI may lower the associated morbidity and mortality. Hemodynamic and fluid management are important components in addressing this condition as has been previously demonstrated that when goal-directed therapy is appropriately actioned, it can decrease the risk of developing AKI in the ICU.3
Using advanced hemodynamic monitoring technology, such as the LiDCO system, can be an essential strategy in detecting and identifying these hemodynamic disturbances and subsequently tailoring interventions to improve diagnosis, treatment and outcome. In 2014, a leading UK medical center demonstrated that by employing a goal directed therapy protocol in post cardiac surgery patients, they could reduce the incidence of AKI and the number of patients requiring renal replacement therapy. 'The significant reduction in the incidence of AKI has both short- and long-term implication on overall morbidity in addition to the financial impact as result of reducing duration of ICU and hospital stay'. Investigators, in this 360 patient study, reported ICU and hospital length of stay reductions as well as the number of readmissions to ICU decreasing by 64%. 6
As well as providing traditional hemodynamic parameters, the LiDCO Hemodynamic Monitoring System offers specific features and tools which can help in individualising hemodynamic management such as fluid or vasopressor therapy for ICU and OR patients:
– Embedded Treatment Protocols: as can be seen in the image below, institution or department specific protocols, such as the one mentioned above, can be embedded in the LiDCO monitor and easily accessed to guide treatment compliance and assist in effective intervention decision making. The protocols can be positioned alongside continuous beat to beat hemodynamic parameters of preload, afterload, contractility and fluid responsiveness so the patient status can be continually assessed.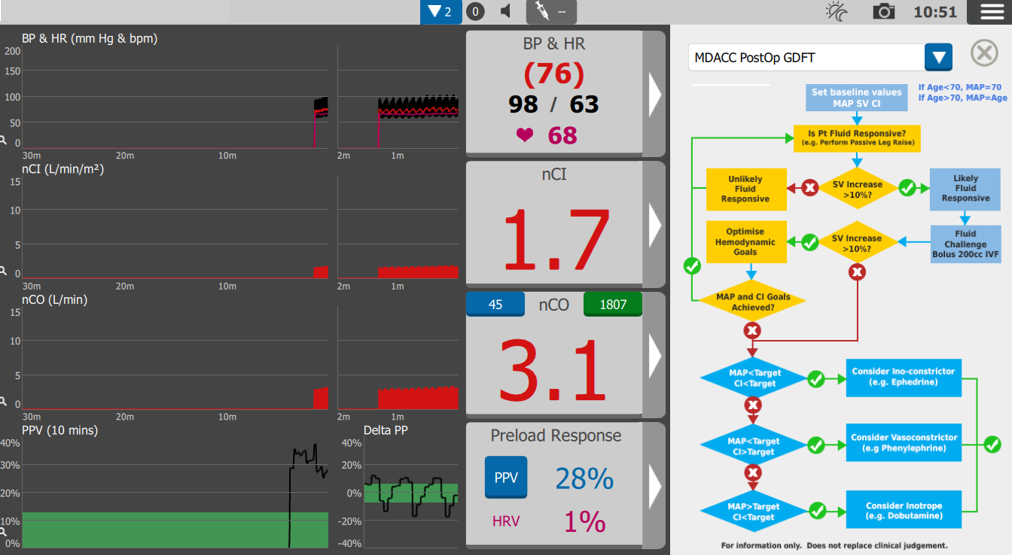 – Guided Protocols for assessment of fluid responsiveness: in critically ill ICU patients, the assessment of fluid responsiveness with dynamic tests such as the passive leg raise to guide fluid resuscitation was independently associated with decreased mortality and length of stay.4,5 The LiDCO Hemodynamic Monitoring System provides several guided dynamic tests such as fluid challenge and passive leg raise (see screenshots below) so fluid therapy can be tailored to the individual to help prevent volume overload or fluid depletion. These tests are most useful when treating patients who are not candidates for fluid responsiveness assessment utilizing stroke volume variation (SVV) or pulse pressure variation (PPV) parameters i.e. cardiac arrhythmia, increased chest compliance or open chest, spontaneous breathing, low tidal volumes (<8ml/Kg).
Guided Fluid Challenge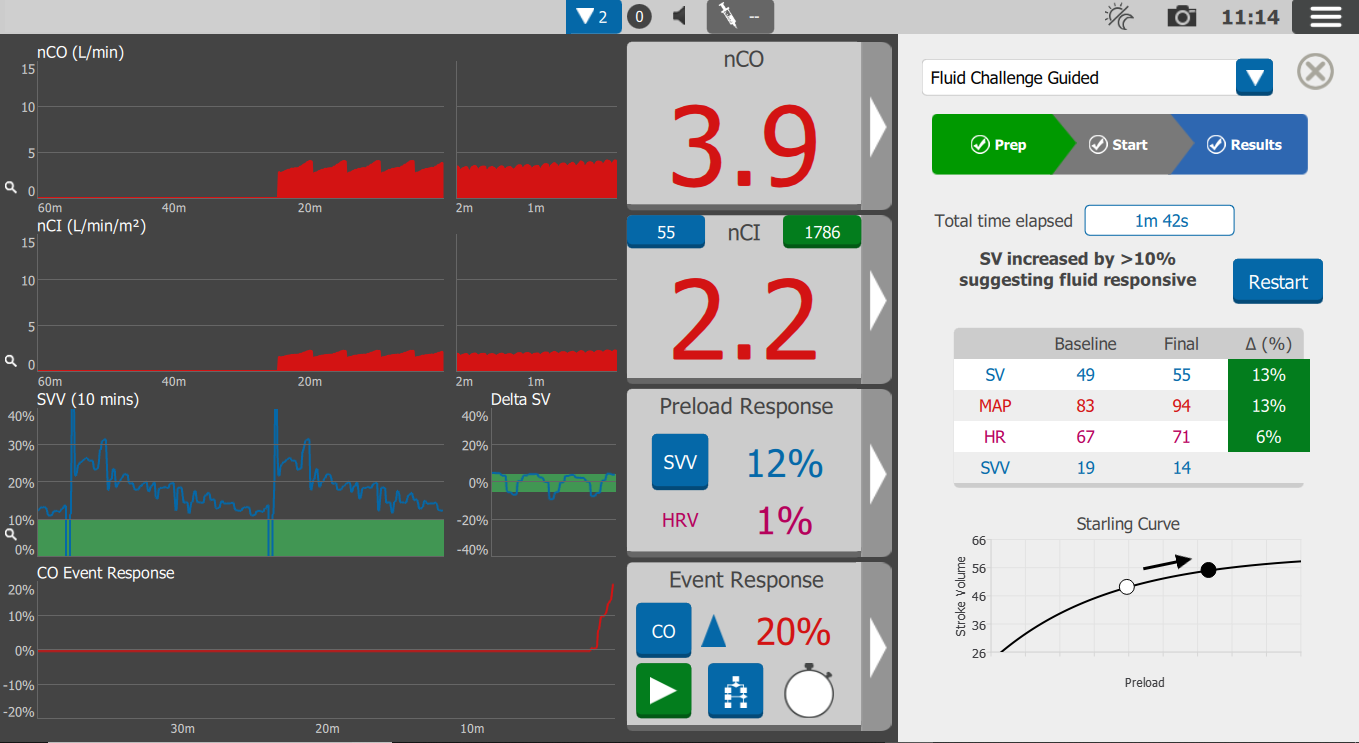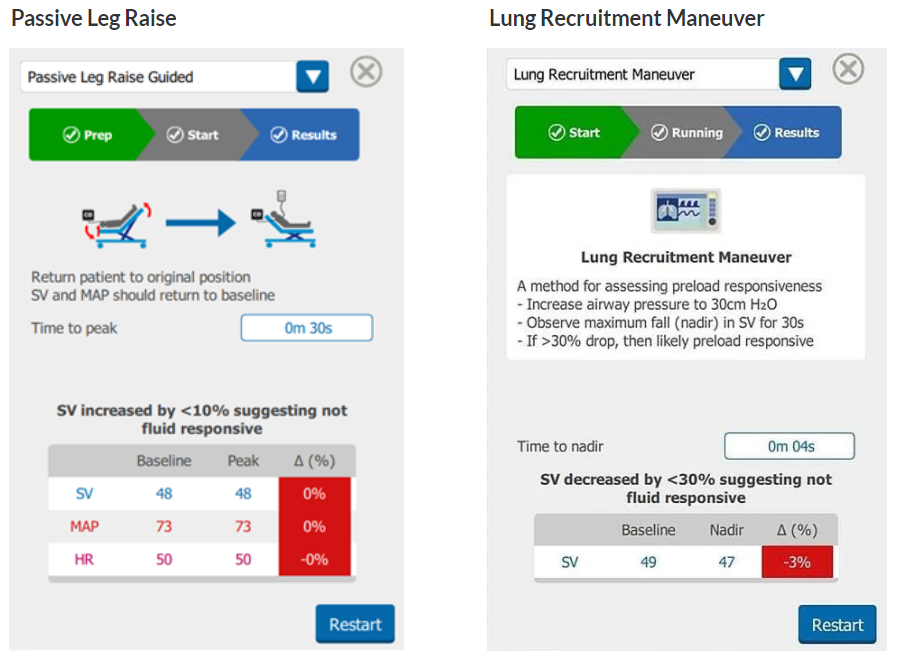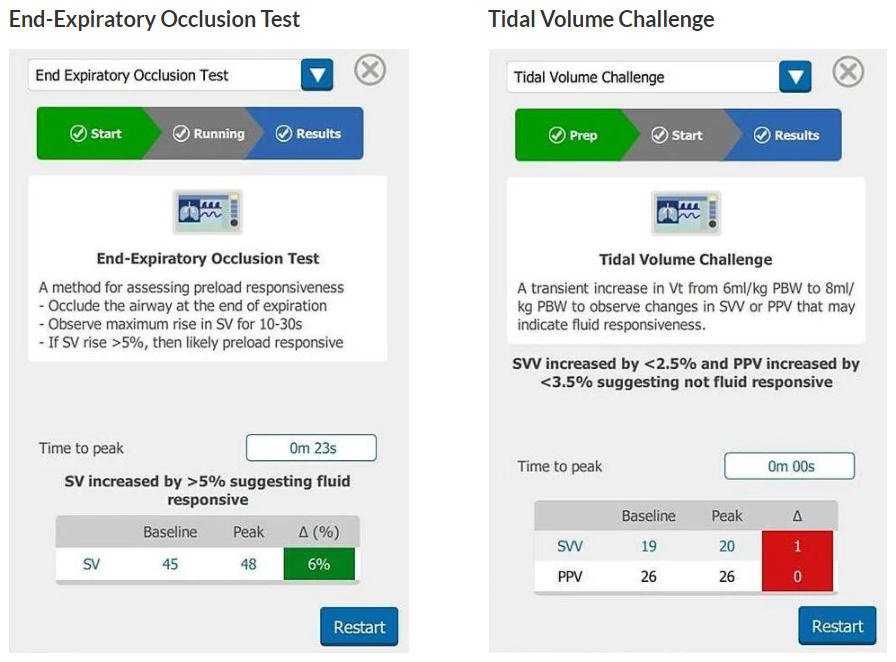 For more information on these tests, guided passive leg raise and guided fluid challenge, please visit our clinical blogs here: www.lidco.com/blog
References
Kheterpal, S, Tremper, KK, Heung, M, Rosenberg, AL, Englesbe, M, Shanks, AM, Campbell, DAJr Development and validation of an acute kidney injury risk index for patients undergoing general surgery: Results from a national data set.. Anesthesiology. (2009). 110505–15 [Article] [PubMed]
Hoste, EA, Schurgers, M Epidemiology of acute kidney injury: How big is the problem?. Crit Care Med. (2008). 364 suppl S146–51[Article] [PubMed]
Plataki M., Kashani K., Cabello-Garza J., Maldonado F., Kashyap R., Kor D.J., Gajic O., Cartin-Ceba R. Predictors of acute kidney injury in septic shock patients: An observational cohort study. J. Am. Soc. Nephrol. 2011;6:1744–1751. doi: 10.2215/CJN.05480610. [PubMed] [CrossRef] [Google Scholar]
Dubin et al. Ann. Intensive Care (2020) 10:40 https://doi.org/10.1186/s13613-020-00659-7
Douglas I., Alapat P., Corl K., Weingarten J., Williams M., Hansell D., Fluid Response Evaluation in Sepsis Hypotension and Shock Open Access April 27, 2020 DOI:https://doi.org/10.1016/j.chest.2020.04.025
Thomson R, Meeran H, Valencia O, Al-Subaie N. Goal-directed therapy after cardiac surgery and the incidence of acute kidney injury. J Crit Care. 2014;29(6):997-1000. DOI: 10.1016/j.jcrc.2014.06.011