Published on Friday, May 1st, 2020 by Janet Kalina Tate.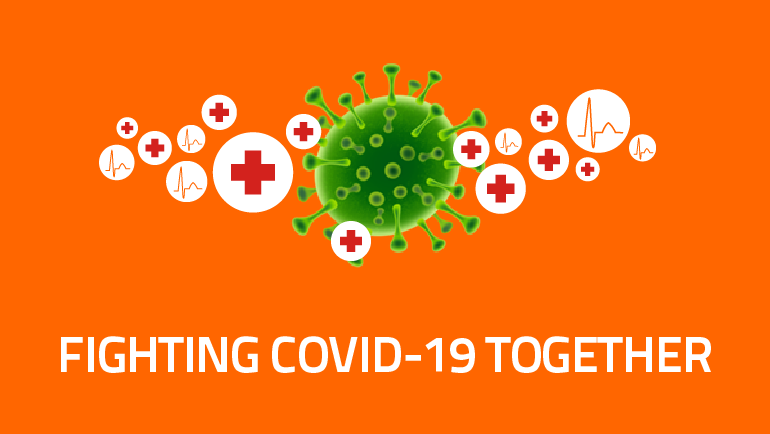 This blog is intended to quickly shore up what you already know about hemodynamic monitoring in critical care, highlight some pitfalls of volume assessment in COVID-19 patients and provide evidence-based advice on the use of LiDCO in critically ill patient populations.
COVID-19 patients are presenting with a wide variety of symptoms in varying degrees of severity depending on the condition of the host. The most common symptoms are high fever, shortness of breath (SOB), weakness, loss of taste/smell, and diarrhea. The most lethal is when SOB progresses to acute respiratory failure from Acute Respiratory Distress Syndrome (ARDS).
The challenges and recommendations for critically ill patients with COVID-19 (see Fig.2) were published by the Asian Critical Care Clinical Trials Group from their recent experiences on the front lines. Regarding hemodynamics, they include cautious use of fluids for hypovolemia, use of vasopressors and inotropes, and possibly CRRT if needed.
An arterial line is an invaluable assessment tool for a ventilated patient in order to monitor serial blood gas sampling and continuous blood pressure. The arterial access also provides the opportunity to derive advanced hemodynamic parameters which reflect left ventricular function such as Stroke Volume, Cardiac Output and Systemic Vascular Resistance without the risks of invasive pulmonary artery catheters. Stroke Volume optimization and vasoactive support are the cornerstones of critical care patient management used to achieve adequate end organ perfusion.
It has been reported that ~14% of patients in ICU with COVID-19 require vasopressor support (Arentz, M. 2020). Hemodynamic monitoring can provide the confidence to titrate vasoactives to optimise the hemodynamic profile of each individual.
Flow and resistance must each be evaluated and fluid should only be given to responsive patients who demonstrate the need for hemodynamic improvement.
Recommendations for COVID-19 patients include checking preload responsiveness before administering fluids to improve end organ perfusion. Yet our typical methods (SVV/PPV) may be confounded by our COVID-19 treatments.
In addition to having a low threshold for intubation, the recommendations regarding mechanical ventilation include limiting Tidal Volume and plateau pressures, as well as increasing PEEP, proning, neuromuscular blockade & ECMO as potential useful adjunctive therapies in the most critical patients.

The lung protective tidal volumes that are being suggested for COVID-19 patients (<8ml/kg of ideal body weight) will likely disqualify those patients from simply visualizing SVV or PPV (Michard, 2015) to help answer the question "Is my patient fluid responsive?"
It has been demonstrated that increasing PEEP values can recruit alveoli, however increasing PEEP is also known to decrease venous return and hence cardiac output. Some have postulated a PEEP Challenge to determine the changes in SV/CO as relates to increasing PEEP. Finding the right balance might also be achieved by tracking SvO2 or Oxygen Delivery (DO2). DO2 = SaO2 x CO x Hgb and can be calculated and trended by LiDCO if the user inputs the current arterial saturation and Hgb on the Display Settings page.
And finally, it has been demonstrated that SVV/PPV performance as a predictor of fluid responsiveness is altered in ventilated patients with low Tidal Volume in a prone position. This may be a direct effect of the heart position. (Messina, A., 2019)
To help meet the challenges these patients provide, LiDCO now offers several new, evidence based protocols to guide you toward the answer to "Is my patient fluid responsive?".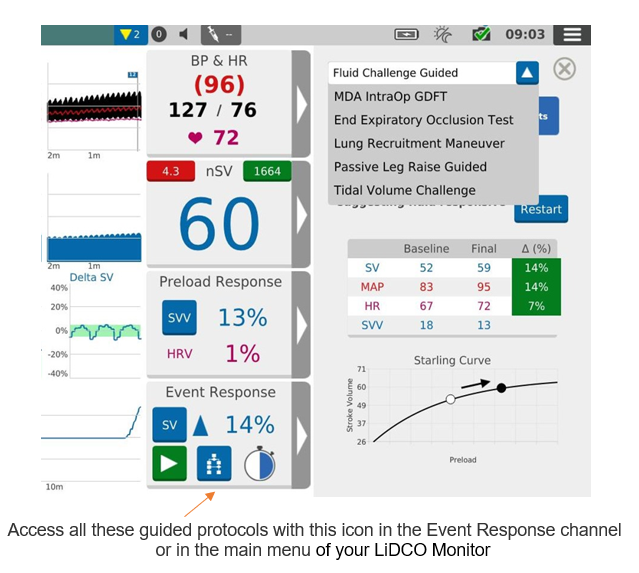 What is a Fluid Challenge? Read blog here
How to do a Passive Leg Raise? Read blog here
What are Preload Responsive Ventilator Tests? Read blog here
– End-Expiratory Occlusion for 15 seconds;
– Apply continuous positive airway pressure of 30 cm H2O for 30 seconds;
– Obtain baseline PPV;
– Increase TV to 8cc/kg PBW (predicted body weight);
– After (1) minute observe PPV/SVV change;
In the most critical COVID-19 patients exhibiting ARDS, we see Lung Recruitment Maneuver being performed to recapture functioning alveoli, and the evidence also tells us we could assess fluid responsiveness at the same time. If the SV decreases by 30% during the maneuver, the patient is a likely fluid responder, and may benefit from increased preload.
The Tidal Volume Challenge has recently been shown to significantly improve the reliability of PPV during low Tidal Volume ventilation. (Myatra, SN., 2017)
In a recent European Society of Intensive Care Medicine (ESICM) webinar, Dr. D. DeBacker, an expert on heart-lung interactions from UL Brussels, discussed the value of these ventilator tests in patients with respiratory issues seen in pneumonia and COVID-19. Dr DeBacker suggested that early use of echocardiography and hemodynamic monitoring would be his preferred choice but declined to recommend the placement and management of a Pulmonary Artery Catheter (PAC). Echo can assure accurate diagnosis of RV dysfunction and without the invasive risk of the PAC. Stroke volume and other hemodynamic parameters derived from an arterial line can provide continuous feedback during the guided fluid assessment protocols, and helps demonstrate the efficacy of our bedside interventions.
Listen here to the ESICM past president discuss heart lung interactions in COVID-19.

If you have any questions about how to acquire or use a LiDCO hemodynamic monitor to your best advantage, contact one of our Clinical Team for assistance.
References
Arentz, M. in JAMA. 2020 Mar 19. doi: 10.1001/jama.2020.4326. [Epub ahead of print] Characteristics and Outcomes of 21 Critically Ill Patients With COVID-19 in Washington State.
Figure 2: Phua J, Weng L, Ling L, et al. Intensive care management of coronavirus disease 2019 (COVID-19): challenges and recommendations [published online ahead of print, 2020 Apr 6]. Lancet Respir Med. 2020;S2213-2600(20)30161-2. doi:10.1016/S2213-2600(20)30161-2
Messina, Antonio & Montagnini, Claudia & Cammarota, Gianmaria & De Rosa, Silvia & Giuliani, Fabiana & Muratore, Lara & Della Corte, Francesco & Navalesi, Paolo & Cecconi, Maurizio. [2019]. Tidal volume challenge to predict fluid responsiveness in the operating room: An observational study. European journal of anaesthesiology. 36. 583-591. 10.1097/EJA.0000000000000998.
Michard F, Chemla D, Teboul JL [2015] Applicability of pulse pressure variation: How many shades of gray? CritCare19:144
Myatra,SN, Prabu NR, Divatia JV et al. [2017] The changes in pulse pressure variatippon aor stroke volume variation after a "tidal Volume Challenge"reliably predict fluid responsiveness during low tidal volume ventilation. Crit Care Med 45:415-21.