Published on Friday, August 31st, 2018 by Natasha Albon.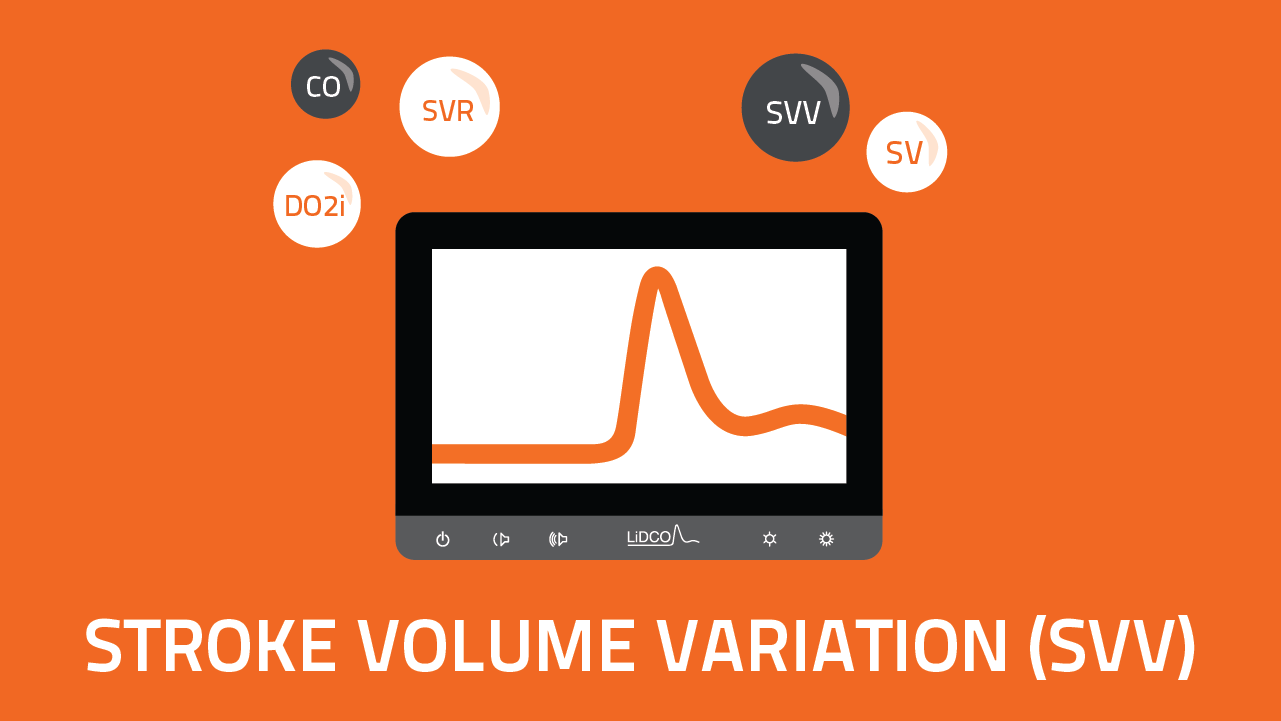 As a Clinical Specialist, I get asked a variety of questions, particularly in relation to SVV. This has lead me to write this blog, to help users understand SVV, how it works, its limitations, and how to use it.
What is SVV?
SVV is a dynamic physiological parameter, and much evidence suggests that dynamic parameters are more effective than passive in predicting fluid responsiveness. SVV relates to ventilation, and the effect the pressure in the chest at different points of respiration has on circulation (Green & Paklet 2010).
On inspiration, right ventricular (RV) preload reduces, due to a reduced venous pressure gradient during inspiration as the intrapleural pressure rises.  The RV afterload also increases, occurring due to an increase in transpulmonary pressure. RV stroke volume (SV) is reduced, leading to a reduced left ventricular (LV) filling volume because of this interaction (Willars et al 2012).
LV output is ultimately reduced 2-3 heartbeats later and is at a minimum during the expiratory phase of mechanical ventilation. The amplitude of these changes is greater when the patient is lower down, on the ascending part of Frank Starling's curve, as they have a recruitable preload at this stage. SVV can be likened to seeing arterial swing on an arterial trace, which would suggest the patient is dry (Willars et al 2012).


SVV is calculated as follows;
SVV= SV max – SV min/ (SV max + SV min/2) (Willars et al 2012).
To simplify, SVV is the difference in maximal SV and minimal SV during respiration. The greater the difference, the more fluid responsive a patient is likely to be. Studies have shown that a SVV greater than 10% would indicate fluid response.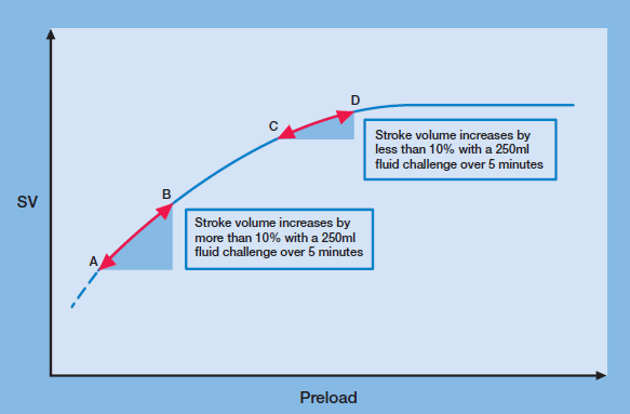 So, now that we know about SVV, how can it be used?
SVV is a parameter that is displayed on all LiDCO haemodynamic monitors. LiDCO uses the PulseCO algorithm to determine SV, by converting pressure into volume. With SV established, SVV can be calculated. As we know, although blood pressure is a useful tool, it is a product of flow and resistance. A good BP does not necessarily equate to good perfusion (Green & Paklet, 2010). We can use SVV to determine when to give fluids, to maximise oxygen delivery and perfusion.
Are there any limitations?
SVV is only a reliable indicator of fluid responsiveness in certain patients. Patients must be mechanically ventilated with adequate tidal volumes, have a closed chest and be in sinus rhythm (Green and Paklet, 2010) (Mair et al 2017). If the patient does not meet these requirements, then SVV will not assist assessing fluid responsiveness.
If a patient is spontaneously breathing, ventilation is irregular and the pressure in the chest will be changing constantly. This means that SVV does not correlate with fluid responsiveness and can give very misleading information. A patient may have a SVV of 70%, but this will be down to the irregularity of spontaneous breathing. When mechanically ventilated, low tidal volumes are not sufficient to change intrathoracic pressure. Tidal volumes of >8mls/kg, with no spontaneous breaths would be required to utilise SVV. If a patient is arrhythmic, SVV is more related to the irregularity in diastole than ventilation. If a patient had an open thorax, during ventilation there would be no change to intrathoracic pressure, rendering SVV infeasible (Myatra et al 2017) (Mair et al 2017).
How does this relate to clinical practice? 
Like any kind of monitoring, care should be taken when interpreting values. Values like SVV can assist with making treatment decisions, but it is part of the clinical picture. All clinical skills and knowledge should be used to interpret values, considering the patient and condition. SVV may not be as useful a tool on critical care, due the fact the patient is unlikely to be vented at tidal volumes of 8mls/kg (6mls/kg is usually the maximum to prevent lung injury). It is important to remember the limitations of using SVV, to ensure the correct treatment can be decided upon. If a patient was in AF or spontaneously breathing, using SVV could well lead to the wrong decision being made about filling. There are other ways to assess fluid responsiveness in patients where SVV would be unreliable. A 250ml fluid challenge could be given, or if there are concerns about giving too much fluid – why not consider a passive leg raise? You can read my blog on passive leg raising here; and watch our video.
Still have questions about SVV? Or fluid management? Get in contact with your local Clinical Specialist to see how we can help your department assess fluid responsiveness.
Check out how to give a fluid challenge with LiDCO
References
Green & Paklet. (2010). Latest developments in peri-operative monitoring of the high-risk major surgery patient. London: International Journal of Surgery 8, 90-99.
Mair et al. (2017). Applicability of stroke volume variation in patients of a general intensive care unit: a longitudinal observational study. Journal of clinical monitoring and computing volume 31, 1177-1187.
Myatra et al. (2017). Use of tidal volume challenge to improve the reliability of pulse pressure variation. Critical Care 2017, 21-60.
Willars et al. (2012). Functional haemodynamic monitoring: the value of SVV as measured by the LiDCOrapid in predicting fluid responsiveness in high risk surgical vascular patients. London: International Journal of Surgery 10, 148-152.